Custom Security Systems to Ensure Your Safety
With an expertly designed Audio Video security system from Capello, you'll have peace of mind knowing that you're safe. Beyond keeping a watchful eye on the things that are important to you, a dependable security system can also increase property values and reduce insurance premiums. These added benefits mean your security system effectively pays for itself.
Closed Circuit (CCTV)
We specialize in Closed Circuit Television (CCTV) Systems and Digital Networked Camera Systems.
IP fixed and pan, tilt and zoom (PTZ) cameras
Network video recorders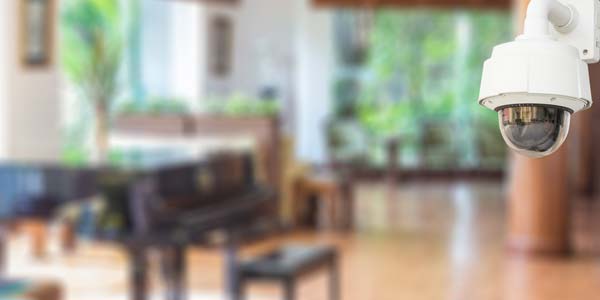 Secure Entry Systems and Card Access
Our clients trust us to deliver a variety of secure entry systems for safe access into different buildings. No matter what application you need it for, allowing authorized individuals in and keeping unauthorized individuals out is vital for ensuring that the area in question, and everything inside of it, is secure. Key tags are small and portable, and are used to restrict access.  They can be programmed to allow access to an entire building or to only certain areas, whatever is desired by management. We can implement these systems and card access to doors (front, back, etc.) and other entry points for a variety of different rooms and buildings. Depending on your needs, we have solutions for both standard and advanced custom security systems that work in tandem with video surveillance cameras.
Furthermore, digital keypads and cards make it easier to manage building access as it eliminates the need for multiple keys. Secure entry systems can be used to verify employee attendance for payroll purposes.  Access can be set up and controlled remotely from anywhere in the world.  It also allows for simpler tracking of which individuals have access to either the entire entity or specific areas.
Commercial and Apartment Intercom Entry Systems
Whether you're waiting for an important package or expecting guests for a birthday party, the ability to see who's at your front door and communicate with them will give you the ultimate peace of mind. Knowing exactly who you're inviting into your home or business is a key element in ensuring the safety of the facility as well as everything and everyone inside of it. We have the expertise and technological capacity to build and service intercom entry systems for apartments and commercial buildings to suit virtually any size or need.
Features
Door release
Clear audio and/or video communication
Recorded messages
Modern designs
Surveillance
Benefits
Protect your property and people inside
Identify visitors
Monitor suspicious behaviour